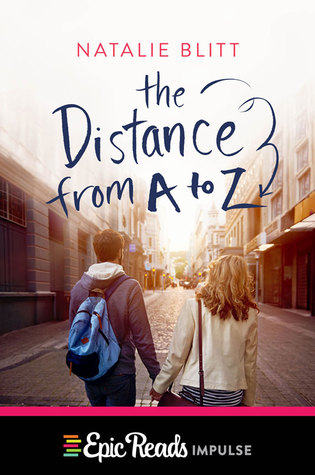 The Distance from A to Z by Natalie Blitt
Release Date: January 12, 2016
Publisher: HarperCollins; 352 pages
Rating:
Seventeen-year old Abby has only one goal for her summer: to make sure she is fluent in French—well, that, and to get as far away from baseball and her Cubs-obsessed family as possible. A summer of culture and language, with no sports in sight.

That turns out to be impossible, though, because her French partner is the exact kind of boy she was hoping to avoid. Eight weeks. 120 hours of class. 80 hours of conversation practice with someone who seems to exclusively wear baseball caps and jerseys.

But Zeke in French is a different person than Zeke in English. And Abby can't help but fall for him, hard. As Abby begins to suspect that Zeke is hiding something, she has to decide if bridging the gap between the distance between who she is and who he is, is worth the risk.
I read this in less than 24 hours. I find I do this with certain contemporaries. Which makes me thing maybe I should read more of them but there aren't a whole lot that interest me. Which is why I stick with Fantasy because nine times out of ten, I will walk away loving that book. The chances for a contemporary are much, much lower. But not for this book. What hooked me in to reading this was when a friend said if I love Kasie West, I will love this. SOLD. Kasie West is one of the few YA contemporary authors who I will read, no questions asked. You could just hand me a book by her with no description or way of finding out what it's about and I wouldn't care. So to compare an author and her writing style to hers, stand back - I'm about to get my read on.
This book was cute and it was emotional. I will admit, I cried, quite a bit. It might seem weird but I connected, a lot, with Abby. The frustrations and the feelings she was feeling when Zeke wouldn't open up to her or shut her down, I went through the same things with my first boyfriend. I was a teenager and I was super shy (something she wasn't) but it made me feel so little and so unimportant that her feelings were identical to what I felt. That connection, that knowing made it feel like I was truly feeling them all over again. It was insane but I loved it. It made everything more real for me.
As someone who isn't a fan of baseball but used to be and used to play, it was fantastic. Now, I've never been in a family or around a family that is this obsessed with baseball (if anything, we're more a football family) but I can understand. I've known people who eat, breathe and live just one thing and it gets overwhelming and too much. To have your entire family and their lives based solely around baseball and specifically, one team, it's a lot. To be different and want something different has got to be harder than most people can imagine but Abby's doing it. She's found something she loves and that she's passionate about and she's going after it. Mad respect to her for that. Most people don't have the drive and determination that she has and especially for as young as she is.
Zeke is dreamy. He's the type of guy most people would have a crush on, whether you're in to jocks or not. He doesn't seem like one that's easy to trust but then you just play that off to him just being a jock because that's how jocks are, right? There's stereotypes for reason, aren't there? But he's surprising, good and bad, nearly every page you turn. There was literally a chapter where I was so happy with him and where things were going and literally, sentences later, I wanted to throttle him. It's like that song, two steps forward and one step back. That's his dance. That's how he is. You think you're progressing only to be take a step back time and time again.
Everything about this story was fantastic until the end. It was too abrupt. It was too much like what I hate in some books. It's probably one of my biggest pet peeves in reading and I'm grateful it hasn't happened in awhile but it made me so mad. I'm being honest and that is what made it lose an entire star, for me. That ending. I hated it. It felt unfinished to me.
Did it ruin the whole thing for me? No. But it definitely disappointed me. I knew, by the percentage at the bottom of my kindle, that it was getting close but I thought I had at least one more chapter to go.
Thank you so much to Harper Collins for allowing me the opportunity to read this in exchange for an honest review.