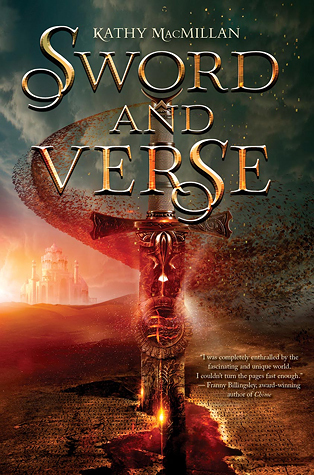 Sword and Verse
by
Kathy MacMillan
(
Sword and Verse, #1
)
Release Date: January 19, 2016
Publisher: HaperTeen; 384 pages
Rating:
Raisa was just a child when she was sold to work as a slave in the kingdom of Qilara. Despite her young age, her father was teaching her to read and write, grooming her to take his place as a Learned One. In Qilara, the Arnathim, like Raisa, are the lowest class, and literacy is a capital offense. What's more, only the king, prince, tutor, and tutor-in-training are allowed to learn the very highest order language, the language of the gods. So when the tutor-in-training is executed for teaching slaves this sacred language, and Raisa is selected to replace her, Raisa knows any slipup on her part could mean death.

Keeping her secret is hard enough, but the romance that's been growing between her and Prince Mati isn't helping matters. Then Raisa is approached by the Resistance—an underground army of slave rebels—to help liberate Arnath slaves. She wants to free her people, but that would mean aiding a war against Mati. As Raisa struggles with what to do, she discovers a secret that the Qilarites have been hiding for centuries—one that, if uncovered, could bring the kingdom to its knees.
I really enjoyed this book; though I was very hesitant in the beginning. Most books have a romance that is very drawn out but it was the opposite in this book. I wouldn't call it insta-love because from the time she is chosen as the new tutor-in-training to when the story really begins, it's been a year. That's plenty of time for feelings to grow for someone but it just feels faster because we didn't see them grow; we just saw them appear. But when you move past that and you get past like the quarter mark, things start to really get interesting.
While this book had a lot of focus on the romance (I'm not complaining, I swear) there was a story in there, too. In this world, only a handful of select people are able to write. Scholars know the lower order language but it is only royalty and their tutors that are allowed to know the higher order language. Tutors, while still slaves, are treated far better than any other slave. They have close relationships with the royal family and are often trusted far above others.
The story took awhile to really get moving but once it did, it never stopped. I really thought, at one point, that there could've been a love triangle and I really was partial to the other option only because of how much easier it could've been for Raisa but love is never easy, now is it? I'm glad it didn't turn out to be one but this could've been one I was okay with.
I really, really liked Prince Mati. He was so different from the image of his father, though we rarely actually saw the King, we were painted quite a clear picture of what he was like and it wasn't anything like his son. In fact, he found his son to be quite a disappointment and that's heartbreaking. But he really stood up for what he believed in and really, that made him a better man than most males in this story. He was a bigger man than any of them could've ever been. He's someone you could be proud of; someone anyone could really look up to and admire. I did. Even if he were fictional.
Not to fool you but this is a standalone with a companion novel in the works, told from another characters point of view. I have a few thoughts on to who that might be and who I'd love to see but I don't really know. If I would've known this was more of a standalone, I might not have read it so I'm glad I read about that after the fact. I'm not big on one book fantasies. I never find that to be a good idea but this one actually works. Really well, too.
I recommend this book to people who enjoy a good romance, intriguing story and just some good ole fun. Fantasy lovers will enjoy it, I have no doubt but I feel others might want to try giving it a chance and could walk away with a thumbs up.
Thank you so much to Harper Collins for allowing me the opportunity to read this book in exchange for an honest review.