So, I've listened to parts of two other audiobooks but never fully finished either. One was because I had already read the novella (Summer's Crossing by Julie Kagawa) and the other was because I didn't care for the book that much (The Murder Complex by Lindsay Cummings). Both of those have one thing in common; the narrator was Josh Hurley. Whom I've become friends with and I think he does a fantastic job narrating books.
But.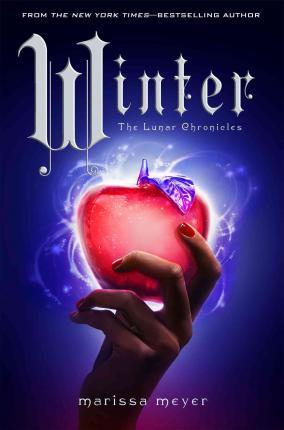 I've just listened to Winter by Marissa Meyer and OMG. I need to listen to this entire series. I knew Rebecca Soler was a fantastic narrator as she was at the DC Marissa Meyer event for Cress a few years back and gave us a sneak peak. I knew then I wanted to listen to these books but I never did (I did have Cinder purchased in audio, though). Now I'm kicking myself for waiting but I get to experience this whole series in a new light now. I never realized how much a great narrator can bring more life to a story. I already loved what I had read (a few chapters I read before turning to audio, mainly because of work) but I never found myself laughing out loud but with her, I did. Whether it was because of the voices or because of the story - it just brightened everything.
The story was perfect. This is the ending I was hoping for and I am extremely satisfied. While I would've enjoyed a bit more kissing in some of the storylines, I didn't feel completely robbed, in the slightest.
It's hard to choose a favorite couple and even harder to choose a favorite character. But I shall try. Couple is actually fairly easy, even though I love them all but I am so in love with Captain Thorne and Cress (Captain is King). These two, y'all, THESE TWO. *sigh* Before I listened to the audiobook, I think Thorne was my favorite but then the audio happened and I loved every since Scarlet chapter. The fiestiness that Rebecca brought out in Scarlet along with her accent made it so damn enjoyable. Scarlet quickly became a favorite for me.
My goal in 2016 is to start this series over again. From the beginning. In audio. I really feel like it will be experiencing the books all over again.
Publishers, take note. You want Rebecca Soler to narrate your books. She is FANTASTIC. Seriously. Why doesn't she narrate them all? You'd have my money in a heartbeat.
Now, you're probably wondering why I'm doing such an out-of-format-review for this. If you'll notice, I've never reviewed any of the previous books of this series. Another person had originally claimed this series to review but she never reviewed the books and no longer blogs here. At that rate, I wasn't really up to writing reviews for the two books I had read. I wouldn't be sitting here gushing about this book if I had read it (though I would've been gushing, just not here) but because it's audio, it's new for me.
Story:
Audio:
Overall: