Y'all. I'm so excited to be here presenting you with this exciting Winter 2016 title with HarperCollins. Like. Seriously. This is one of my most anticipated books of 2016 and I'm hoping it's one of yours, as well. Oh, and did I mention . . . she's a local author. Baltimore representing, hon!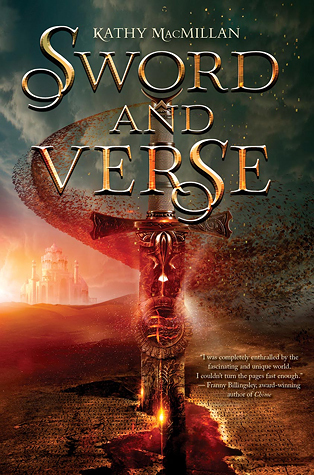 Swore and Verse by Kathy MacMillan
Release Date: January 19, 2016
Publisher: HarperTeen; 384 pages
Raisa was just a child when she was sold to work as a slave in the kingdom of Qilara. Despite her young age, her father was teaching her to read and write, grooming her to take his place as a Learned One. In Qilara, the Arnathim, like Raisa, are the lowest class, and literacy is a capital offense. What's more, only the king, prince, tutor, and tutor-in-training are allowed to learn the very highest order language, the language of the gods. So when the tutor-in-training is executed for teaching slaves this sacred language, and Raisa is selected to replace her, Raisa knows any slipup on her part could mean death.





Keeping her secret is hard enough, but the romance that's been growing between her and Prince Mati isn't helping matters. Then Raisa is approached by the Resistance—an underground army of slave rebels—to help liberate Arnath slaves. She wants to free her people, but that would mean aiding a war against Mati. As Raisa struggles with what to do, she discovers a secret that the Qilarites have been hiding for centuries—one that, if uncovered, could bring the kingdom to its knees.





Seriously. Fantasy. Your mine. This cover, too. Do you see how awesome it is? I can just see the finished copy and the title font - that's going to be AMAZING on the finished copy. But it's not really about the cover, right? It's all about the beautiful words inside the book. That is what really counts. And that's what's got me so pumped. I know people who have already loved this book and loved it. They're people whose opinions I trust and we relate on a lot of books so that pumps up my excitement to the max.
But I haven't read it yet. Do you know why? Because I'm afraid. I'm afraid I'm going to read through it too fast and be sad when it's all over. Worst feeling ever. But it's time is coming. Very, very soon.
Prizes:
#1 – A Harper Teen Winter 2016 Catalog prizepack of 40+ books*.
*All YA titles in the winter2016 catalog with the exception of The Siren by Kiera Cass, Yellow Brick War by Danielle Paige and Glass Sword by Victoria Aveyard.*
#2 – 5 Finished Copies from the Harper Teen Fall 2015 Catalog
5 books are: The Lies About Truth, Walk on Earth A Stranger, Dreamland, Dumplin', and Velvet Da Vinci's Tiger
Entry rules for prize #2:
Collect the daily words and phrases from each blog stop during the Harper Winter 2016 Tour (a total of 45). Once you've collected them all, email the saying to: HarperTeenTour@gmail.com
Rules:
1.)

Winner must have a valid US mailing address to receive the prize
2.)

Winner must be over 13
3.)

Only one (1) entry per person for Prize #2 – duplicates will be deleted.
4.)

Only a completed phrase will be accepted as an entry – do not email each word/phrase daily. Wait until you have the complete saying and then email in.
5.)

All email submissions must be received by 11:59 PM EST 11/30/2015.
6.)

Winner will be selected 12/1/2015 and will have 48 hours to claim their prize before another is selected.
7.)

Participating blogs and bloggers are not responsible for unsent, damaged, and/or stolen prizes sent by the publisher.
Don't forget to follow the rest of the tour to make sure you get through all the secret words at each stop for Prize #2.
This is the Harper Winter 2016 Tour!
---