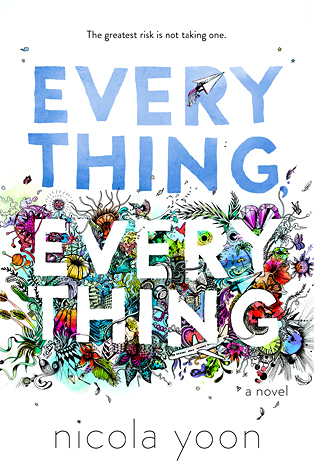 Everything, Everything
by
Nicola Yoon
Release Date: September 1, 2015
Publisher: Delacorte Books FYR; 320 pages
Rating:
This innovative, heartfelt debut novel tells the story of a girl who's literally allergic to the outside world. When a new family moves in next door, she begins a complicated romance that challenges everything she's ever known. The narrative unfolds via vignettes, diary entries, texts, charts, lists, illustrations, and more.

My disease is as rare as it is famous. Basically, I'm allergic to the world. I don't leave my house, have not left my house in seventeen years. The only people I ever see are my mom and my nurse, Carla.

But then one day, a moving truck arrives next door. I look out my window, and I see him. He's tall, lean and wearing all black—black T-shirt, black jeans, black sneakers, and a black knit cap that covers his hair completely. He catches me looking and stares at me. I stare right back. His name is Olly.

Maybe we can't predict the future, but we can predict some things. For example, I am certainly going to fall in love with Olly. It's almost certainly going to be a disaster.
First off, this cover is simply amazing. If this doesn't catch your attention when you walk past it on a bookshelf, I don't know what would, honestly. I'm dying to see a finished copy, to see if it's even more spectacular than the ARC (which is pretty awesome).
This book was so unique. Not necessarily the story but how the book was put together. There are notes in there, pictures that Madeline draws and then gmail chat conversations. I don't think I've read a book where there were so many other things besides just text since I was a kid. It kind of brought me back to that time but obviously with a more mature story. This is also what makes the book such a quick read.
The best thing, hands down, about this book is the relationship between Olly and Madeline. Everything about this and them is perfection. They are both snarky, both have their own issues they try to keep from each other and are both just great people. The attraction is fast, fierce and real. The build up of these two isn't rushed and it feels real.
The story, where Madeline is allergic to the world and basically trapped in her sterile home for the rest of her life, is great. You can't help but pity her as she's missing out on so much. Just something as fresh air that we take for granted. Always being able to look outside and see the world, free as a bird, while you never get to experience any of it. That's depressing.
While I found this book to be rather predictable, it still made for a very enjoyable read. The characters, especially Madeline and Olly, made the story what it was. You'll laugh, you'll cry, you'll worry and you'll get angry. In the end, you'll smile.
Thank you so much to Random House for allowing me the opportunity to read this book in exchange for an honest review.