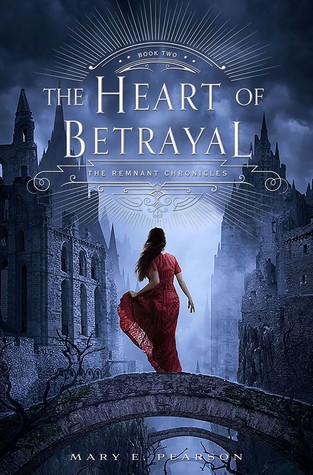 The Heart of Betrayal
by
Mary E. Pearson
(
The Remnant Chronicles, #2
)
Release Date: July 7, 2015
Publisher: Henry Holt and Co.; 470 pages
Rating:
Intrigue abounds in this hotly anticipated sequel to The Kiss of Deception!

Held captive in the barbarian kingdom of Venda, Lia and Rafe have little chance of escape. Desperate to save her life, Lia's erstwhile assassin, Kaden, has told the Vendan Komizar that she has the gift, and the Komizar's interest in Lia is greater than anyone could have foreseen.

Meanwhile, nothing is straightforward: there's Rafe, who lied to Lia, but has sacrificed his freedom to protect her; Kaden, who meant to assassinate her but has now saved her life; and the Vendans, whom Lia always believed to be barbarians. Now that she lives amongst them, however, she realizes that may be far from the truth. Wrestling with her upbringing, her gift, and her sense of self, Lia must make powerful choices that will affect her country... and her own destiny.
If you have NOT read

The Kiss of Deception

please read with caution. There are some spoilers that were unavoidable. Proceed with caution . . .
How does she do it?! Miss Pearson blew me away with the first installment of this amazing series and I honestly did not think she could out-do herself with it's follow up. I was completely and utterly mistaken. She has done just that . . . just in a more calm fashion. At least, calm for me. No setting the book down, lecturing myself on how I could be so foolish then let the anger at myself set in. This all happened during the first book. I still get emotional and angry at myself when I talk about this book. My voice goes from normal to extremely loud in a matter of moments. My voice still does that when talking about this book but only because it's so perfect, everything is so perfect that every person should be reading this series. My passion and my love for this series is out of control.
But I'm not crazy or anything . . . I swear.
I am not torn on who I love. I am firmly on team Rafe. He has my heart and he's is 100% swoon-worthy. Everything about him is desirable. From his knowledge, to his skills, to his way with words to just him. Everything about this fictionial man is perfection and honestly, it's just not fair. Someone like him needs to exist. A little older, preferrably but where are the Rafe's in the world?
However, the great thing about these books is it is not the men that absolutely make it for me. Lia is the biggest reason this series is so perfect, in my opinion. She is fierce. She is intelligent. She is a badass. She needs to be my best friend. There are not enough adjectives to describe just how amazing this character is. She is what makes everything worth it. The fighting, the love, the loss, the struggle, the pain . . . just . . . everything.
I don't even know what to expect with the final book. The ending of this book is heartbreaking and stressful and the wait will be utter torture. But what I do know is you never should question the author. I wasn't sure she could surpass the beauty of the first book, but she did. So now I have no doubts she will do the same thing for the final book. IT WILL BE EPIC. I know it will be. And I'm also hoping for 1,000 pages? Not too much to ask, right?
Thank you, Mary E. Pearson, for giving me a series I'm so passionate about. I purposely kept this book review vague because going in to do detail would not only bore you but it could spoil those who might not have read the first book and trust me, I do not want to be responsible for that. All you need to know is that I have so much love for this book. In fact, I read it twice and both times, it was just as beautiful.
Thank you so much to Macmillan for allowing me the opportunity to read this book in exchange for an honest review & also for considering me to be a part of this blog tour.
The publisher is generous to award one lucky winner the chance to win a finished copy of The Heart of Betrayal! So if you haven't started the series, winning this would be that extra push you might need or if you're like me, and in love with The Kiss of Deception, I already know you WANT this! You have until 11:59 PM EST on July 15 to enter. Good luck and may the odds be ever in your favor!
a Rafflecopter giveaway
Follow along with the rest of the tour at these fabulous blogs!
| | |
| --- | --- |
| | |
| | |
| | |
| | Adventures of a Book Junkie |
| | |
| | |
| | |
| | |
| | |
| | A Perfection Called Books |
| | |
| | |
| | |