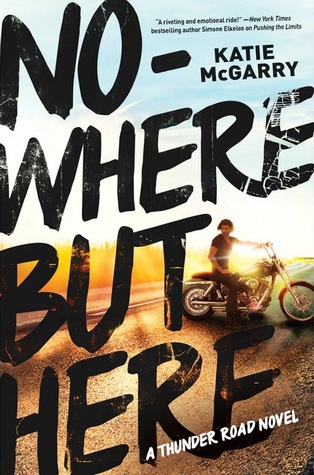 Nowhere But Here by
Katie McGarry
(Thunder Road, #1)
Release Date: May 26, 2015
Publisher: Harlequin Teen; 496 pages
Rating:
Seventeen-year-old Emily likes her life the way it is: doting parents, good friends, good school in a safe neighborhood. Sure, she's curious about her biological father—the one who chose life in a motorcycle club, the Reign of Terror, over being a parent—but that doesn't mean she wants to be a part of his world. But when a reluctant visit turns to an extended summer vacation among relatives she never knew she had, one thing becomes clear: nothing is what it seems. Not the club, not her secret-keeping father and not Oz, a guy with suck-me-in blue eyes who can help her understand them both.



Oz wants one thing: to join the Reign of Terror. They're the good guys. They protect people. They're…family. And while Emily—the gorgeous and sheltered daughter of the club's most respected member—is in town, he's gonna prove it to her. So when her father asks him to keep her safe from a rival club with a score to settle, Oz knows it's his shot at his dream. What he doesn't count on is that Emily just might turn that dream upside down.



No one wants them to be together. But sometimes the right person is the one you least expect, and the road you fear the most is the one that leads you home.
I'm going to be honest here - it's been a long time since I've read Nowhere But Here. Like three months. Which may not seem like a long time but when it comes to reading, it is. This review may be a bit more vague than most of my reviews because of the fact it's been a few months & I've read a good amount of books in between this time.
Am I going to say this book was as fantastic as her Pushing the Limits series? No. That's impossible for me to say because that series is just so bloody amazing. I will say, however, that this book is a fantastic opener to what can and most likely will be a brilliant series. I'm excited for the next book, which will be Razor's story but what I'm MOST excited for is Chevy's story. Oh my GOSH did I fall in love with him. I need his story right this second but we'll save that for later. Let's talk abut Emily and Oz first, shall we?
Oz. First. I love the name. Second, he's a good guy. Third, I didn't love him. I mean, by the end I certainly did. I also have a lot of respect for him. A lot. But there was nothing that really captivated me. Maybe it's because I've been blinded by Chevy because Oz is a great character. He's a fantastic love interest, not just because he's a good looking lad but because, underneath it all, he's a guy with a good heart. His lifestyle may not be very innocent but that shouldn't lower a person's value.
Emily. I really adored her. She was the complete opposite of Oz and she was thrust in to this world that was so foreign to her. Seeing her around her biological father in his surroundings was fascinating. She doesn't have a great relationship with him and it's so great to see her around his family. She learns a lot that she never knew and of course, she starts questioning quite a lot. Poor girl goes through so much in this book but she holds her head high every time.
I've never been a fan of motorcycles, personally. I find them terrifying. So it was really interesting to see a whole new side to riders. I had the chance to talk to Katie a lot about this book and her research and while I found everything intriguing, I found it moreso after our talk. From the club she researched her book is very true to their way of life and it's tough. Not just being a part of the club but being a wife, girlfriend or family. I can't even imagine and that's one of the reasons I love this book so much. It's so far from my norm that I can divulge and escape my reality.
Chevy, why aren't you real? I need you in my life. For real.
Thank you so much to Harlequin Teen for sending me a copy of this ARC in exchange for an honest review. Thank you so much to Hannah from the Irish Banana Review for inviting me to take part in this wonderful blog tour.
About the Author:



Katie was a teenager during the age of grunge and boy bands and remembers those years as the best and worst of her life. She is a lover of music, happy endings, reality television, and is a secret University of Kentucky basketball fan.





Katie is the author of the full-length Young Adult novels PUSHING THE LIMITS and DARE YOU TO, and the e-novella CROSSING THE LINE. Her debut novel, PUSHING THE LIMITS, is a 2012 Goodreads Choice Finalist for YA Fiction and an RT Book Reviews 2012 Reviewer's Choice Awards Nominee for Young Adult Contemporary Novel.





Writing has given Katie an excuse to pursue her passions. Research for her books has provided her with the amazing opportunity to train with baseball players, ride along in a drag car at ninety-six miles per hour and experience boxing and mixed martial arts. The most memorable moments for Katie are when she speaks to groups of teenagers about her research, writing and the truth that no dream is out of reach. Katie would love to hear from her readers.




Thank you to Harlequin Teen we are giving away one hardcover copy of Nowhere But Here. Each tour stop will have their own book to give away so don't forget to enter each stop for a better chance of winning! This giveaway is open to US residents only. You will have until 11:59 PM EST on May 29, 2015 to enter. Good luck and may the odds be ever in your favor!
a Rafflecopter giveaway
Check out the rest of the tour below!
Week 1:
Week 2: