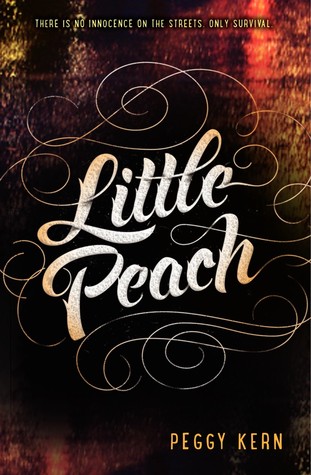 Little Peach
by
Peggy Kern
Release Date: March 10, 2015
Publisher: Balzer & Bray; 208 pages
What do you do if you're in trouble?

When Michelle runs away from her drug-addicted mother, she has just enough money to make it to New York City, where she hopes to move in with a friend. But once she arrives at the bustling Port Authority, she is confronted with the terrifying truth: she is alone and out of options.

Then she meets Devon, a good-looking, well-dressed guy who emerges from the crowd armed with a kind smile, a place for her to stay, and eyes that seem to understand exactly how she feels.

But Devon is not what he seems to be, and soon Michelle finds herself engulfed in the world of child prostitution where he becomes her "Daddy" and she his "Little Peach." It is a world of impossible choices, where the line between love and abuse, captor and savior, is blurred beyond recognition.

This hauntingly vivid story illustrates the human spirit's indomitable search for home, and one girl's struggle to survive.
So, this book covers a pretty major topic; one that isn't focused a lot on but is a big issue. While I haven't read the book yet (but that is changing soon) I've heard enough people talking about this book & how it makes them feel after reading it. What we hope to accomplish with this tour is not only to help promote this book but also bring light to the problem at hand - sex trafficking.
I've had the chance to ask the author, Peggy Kern, to write a guest post based on where she got the idea for this book and if it was inspired by anyone she knew. Cause, let's be honest, this isn't highlighted in the news & it really should be. I remember watching a feature on a few girls who were picked up on the side of the street for sex trafficking and it's scary. I've read one other book dealing with the aftermath of someone who went through this and it was a punch in the gut reading it.
On a random Saturday night, I stumbled upon the documentary "Very Young Girls", which is about child sex trafficking in the U.S. I was horrified by what I learned. I had no idea this was happening in our country. I cried, and cried some more, and then I became furious, so I decided to write a book about the issue.
It was VERY important to me to tell the story from the viewpoint of a victim starting from when she was child. In order to do that, I knew I had to speak directly with women who'd been trafficked. I had to let them be my guides, to let them tell me how the story of Little Peach should go.
A friend of mine happened to be an NYPD detective at the time and so I asked him to help me with research. Through him, I was able to see the sex trade in Brooklyn. I was also able to speak with several women who were trafficked as kids, including a woman named Miracle who became my primary source. Miracle was "recruited" by a pimp when she was 12 years old, right out of a group home in New York City. She taught me so much of what I now understand about traffickers, victims, and perhaps most importantly, our failure as a society to protect these kids.
She taught me about the scouts that wait at bus terminals and train stations, looking for runaways – just like Little Peach.
She showed me the tattoos she was given by her pimp.
She explained to me how traffickers use drugs to hook young girls.
She talked about her mom, who was a prostitute and addict. And her father, who she never knew.
She told me about the girls she's known and loved through the years. Some of them were murdered. Some were sold to other pimps.
She talked about the violence she'd survived.
She could not talk about her foster father, who had abused her so badly, she could do nothing other than cry when she would attempt to talk about him.
My time with Miracle, and with another woman named Jen, who I met on a street corner in Brooklyn, East New York and who was kind enough to talk to me as well, informed the voices of Michelle, Kat and Baby. There are moments in the book when Michelle can barely speak. Her sentences are broken. It's like she's whispering to you, or turning her head away. That is the voice of Miracle, in many ways. And of Jen. And of the other girls I watched in the hotels of Brooklyn, but could not get near.
I also did my best to use the same locations I saw during my research: Pink Houses, The Port Authority Bus Terminal, American Suds Laundromat in Coney Island . Those locations are as real as the girls Peach represent.
Over and over, as I was writing the novel, I would ask myself: Would Miracle agree? If she read this, would she nod her head and say, Yeah. That's right, Peg. That's how it went down.
Research is important, no matter what you're writing about. But for Little Peach, it meant the difference between my sheltered imagining of what sex trafficking is like – and the actual accounts of victims. I hope I have done justice to the stories I was told.
About the Author:

Peggy Kern was born and raised in Westbury, New York. There she attended the local public elementary and middle schools, where she was one of the few white students in a predominately black and Latino community. Peggy didn't realize what a unique and valuable experience that was until she transferred to a private high school.

"I was miserable in high school," she says. "I couldn't understand why my classmates only hung out with people who looked just like they did. To me, that was a foreign concept." Peggy worked a variety of jobs through her teenage years, including switchboard operator at a country club, cashier at a clothing store, and the night-shift in a bakery.

In 1992, Peggy enrolled at LaSalle University in Philadelphia, where she discovered her love of literature and writing. However, the financial stress of paying for college herself – coupled with the painful divorce of her parents – proved overwhelming. She moved back to New York and took a full-time job as a secretary. Determined to finish her degree, she began taking night classes at a local community college and eventually landed a partial scholarship at Long Island University. She continued working full-time and taking classes until she graduated in 1998 with a B.A. in English.

Though it took her almost seven years to obtain her college degree, Peggy says she would do it all again. "The adversity made me work even harder. I never forgot how lucky I was to have a chance at an education."

In 2001, Peggy completed a Master's degree in English and Writing at Southampton College. She also coordinated the Southampton Writers Conference, where she had the chance to meet some of her literary heroes and assist young students in pursing their dream of writing. While at Southampton, she taught English Composition, tutored undergraduate students and published several short stories.
One lucky reader can enter to win the chance to win a finished copy of Little Peach by Peggy Kern. This giveaway is open to US and Canadian readers, only. The book will be coming straight from the publisher, Harper Collins. This contest will end at 11:59 PM EST on March 12, 2015. Good luck & may the odds be ever in your favor.
a Rafflecopter giveaway
If you are interested in learning more about this subject or seeing how you can help out, please look at the following two organizations!