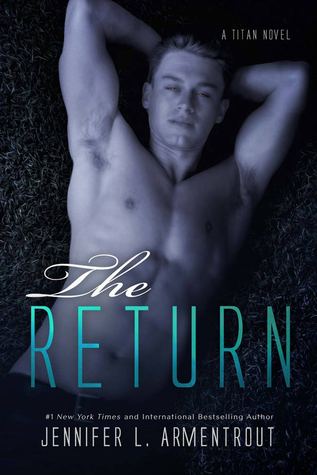 The Return
by
Jennifer L. Armentrout
(
Titan, #1
)
Release Date: February 16, 2015
Publisher: Spencer Hill Press; 335 pages
Rating:
The Fates are cackling their bony asses off…

It's been a year since Seth made the deal with the gods that pledged his life to them. And so far, the jobs they've given him have been violent and bloody–which is kind of all right with him. But now Apollo has something else in mind for Seth. He's got to play protector while keeping his hands and fingers off, and for someone who really has a problem with restraint, this new assignment might be the most challenging yet.

Josie has no idea what this crazy hot guy's deal might be, but it's a good bet that his arrival means the new life she started after leaving home is about to be thrown into an Olympian-sized blender turned up to puree. Either Josie is going insane or a nightmare straight out of ancient myth is gunning for her.

But it might be the unlikely attraction simmering between her and the golden-eyed, secret-keeping Seth that may prove to be the most dangerous thing of all.

Because history has once again been flipped to repeat.

Book 1 in the new adult paranormal TITAN series, spin-off to the best selling COVENANT series.


I have been wait for this book since it was announced. Heck, I've been waiting for this book since I first met Seth back in the Covenant series. While most of you were off drooling over Aiden St. Delphi, here I was drooling over Seth. He may have had his issues in that series but this series, it's the Seth you've all been waiting to see. He's still a bad boy but on the inside, he's got a heart of gold. To match those beautiful eyes of his.
While I thought the Covenant series was pretty upper YA material; this, however, is definitely in New Adult territory. The ages of the characters, the sexual positions they find themselves in are things you don't read about it YA. So, even if you're a fan of this series, if you're not ready for more mature content, maybe consider putting off this series until it's complete? Just a kind warning . . .
You know what makes things most exciting for spin-off series? Not just the return of the main character, in this case, Seth, but the appearances of other favorite characters. In this case, I'm talking about Aiden's younger brother, Deacon and his delicious half-blood boyfriend, Luke. Oh my gosh, I was so excited to see them I nearly threw a dance party just for them (you know they would've enjoyed that, too). Obviously, seeing Apollo is always a bundle of fun, especially when he aggrevates Seth. I nearly die every time those two interact. I felt the same way in the Covenant series. These two need to be trapped in a room together just for my entertainment.
Shit is about to hit the fan but should we be surprised? Releasing the Titans was a bad idea and one that is about to blow up in everyone's faces. We find out that they're out for revenge (surprise, surprise) and . . . well, things are about to get real interesting up in here.
Seth goes from being the excutioner to being a babysitter and let me tell you - there's a huge difference. Especially when the person he's responsible for babysitting is college student, Josie. Things start spiraling out of control from the moment these two first run in to each other. Literally; one thing after another but one thing that's consitant through it all is the chemistry. Boy oh BOY is there chemistry between these two. It's growing with every page you turn.
For those who read the Covenant series and may not have seen Seth in the same way I saw him, you're in for such a surprise. I've heard of many fans who hated him (even loathed him) in the Covenant series have boarded the cuddle bunny express (I'm head of this express, by the way). You see Seth in a new light or maybe it's you who has finally opened their eyes; regardless, he's redeemed himself and y'all can start crushing on him. Go on - I encourage it.
I know I've talked mostly about Seth but let's be honest, that was bound to happen. But I want to talk about Joe, I mean, Josie for a second. I freaking LOVE her. She's hilarious, innocent yet not, able to put Seth in his place a time or two and hell of a lot stronger than she appears. She surprises me on more than one occasion throughout this book; especially for what's been put through over and over and over again. This girl is amazeballs. That's all there is to it. I can't wait to read more about her ESPECIALLY after what happened. Oooooh, I'm so excited. I'm like bouncing in my seat with anticipation. You don't even understand.
Overall, I loved it, obviously. As a fan of the Covenant series, it was nice to dive back in to this world we already fell in love with. Those of you who might not have read that series yet (seriously, think about fixing that problem asap), will be introduced to a world that you won't ever want to leave. You won't be lost picking this up with no prior knowledge but it's not recommended. You do this, you won't be able to enjoy the other series as much, at least, I don't think you could.
Thank you so much to Spencer Hill Press for allowing me the opportunity to read this book in exchange for an honest review.