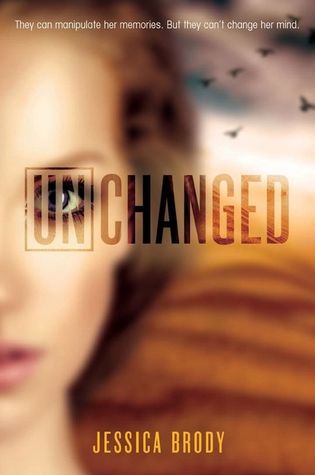 Unchanged
by
Jessica Brody
(
Unremembered, #3
)
Release Date: February 24, 2015
Publisher: Farrar, Straus, and Giroux; 432 pages
In this mesmerizing conclusion to the Unremembered trilogy, Sera will fight those who have broken her.

After returning to the Diotech compound and receiving a successful memory transplant, Seraphina is now living a happy life with another synthetically engineered human like herself, with whom she is deeply in love. She has no recollection of Zen. But the nagging feeling that something is missing from her life continues to plague her. Diotech's newest product is about to be revealed—a line of genetic modifications that will allow people to live longer, fight disease, and change any unfavorable physical attribute they desire.

As more secrets are revealed, more enemies are uncovered, and the reality of a Diotech-controlled world grows closer every day, Sera and Zen must find a way to destroy the company that created her, or they'll be separated forever.
The Unremembered trilogy is available for the first time as audiobooks!
Water, Fire, Air: The Elements of the Unremembered Trilogy
The water is cold and ruthless, lapping against my cheek.
The fire is hot and relentless, rising up from a thicket of smoldering ash.
The air is harsh and blistering, whipping around me as I cross the barren field.
A lot of readers don't realized that each of the three books in the Unremembered trilogy (Unremembered, Unforgotten, and Unchanged) begins with an element. A cruel element that Seraphina will, at some point, battle in that book.
In book 1, Unremembered, Seraphina wakes up floating in the Pacific Ocean, surrounded by plane crash wreckage. In book 2, Unforgotten, Sera is nearly consumed by fire when she's burned at the stake. In book 3, Unchanged, well, I can't really tell you how air plays into that one without giving away some spoilers, so let's just say it plays a very big part!
I chose to start each book with a harsh natural element and to pit Seraphina against that element in the story because the overall theme of the entire trilogy is Science vs. Nature. Seraphina represent science. After all, she is the physical embodiment of scientific progress. She was created in a science lab to be the perfect specimen of human. So it makes sense that in each installment, she somehow battle against an unforgiving element of nature to show this conflict.
I think the UK covers for the trilogy do an amazing job of reflecting this theme. You can see them below. Obviously each element is represented in the covers. I love that they incorporated this into the design!
I love the epic debate about science vs. nature. Or even God vs. Technology. It's why I chose to title my evil corporation "Diotech," meaning God's Science, to further drive the point home. Personally, I'm constantly wrestling with the question of "How far is too far?" when it comes to scientific advancement and technological progress. We live in this strange society where people strive to eat organic local foods, stay close to nature, eliminate chemicals and genetic modifications in our food. And yet, our technology consumes us. We walk around with our faces in our phones and we sit in front of computers all day, instead of talking to people face to face. (And I'm one of the worst when it comes to this!) The dichotomy fascinates me. And I really set out to explore that in this trilogy. Especially in the third book. Because Unchanged takes place one hundred years in the future, I was able to exaggerate the contrast by creating more advanced technology and more invasive scientific innovation. Things like genetic modifications you can buy in a drug store to make you faster, stronger, prettier or synthetic meat that tastes just like the real thing but is manufactured in a lab.
Then, of course, there are groups of people in the story who are boycotting all of that. Who want to return to nature and keep science out of our lives. That's the other extreme. But is there a middle ground? And where is that line? These are all questions I asked myself while writing the final book.
To further explore this theme of science vs. nature, I also created two other characters to represent both sides of the "war." Kaelen, an ExGen (superhuman) represents Science or Technology. And Zen, a normate (or normal human), represents Nature. And these are the two forces that are competing for Seraphina's heart. One love is literally manufactured by science while the other is natural (happening without scientific intervention, or, even despite scientific intervention.) And I've pitted them against each other just as I did with Sera and the elements.
Who will win this ultimate battle? Who deserves to win? Science or nature? Or is there a way for them to coexist? I guess you'll have to read the book to find out!
Thanks so much for hosting me on your blog!
a Rafflecopter giveaway
For readers who order UNCHANGED (in physical or ebook) by March 1 and do a few promotional tasks, Jessica will send a free autographed trilogy poster with the secret Diotech compound blueprint on the back. This offer is open internationally. I have attached a graphic here to include. I would suggest including something along the lines of the below:
Even if you do not win our giveaway, you still have the opportunity to win a *free* autographed trilogy poster. Visit Jessica's website here for more information!
BLOG TOUR SCHEDULE