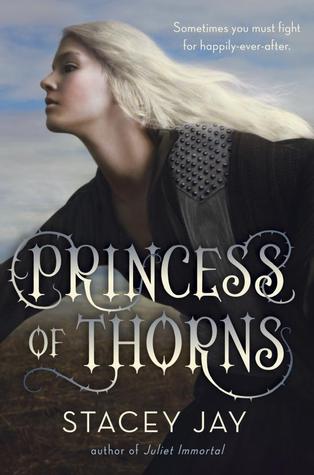 Princess of Thorns by Stacey Jay
Release Date: December 9, 2014
Publisher: Delacorte Press; 400 pages
Rating:
Game of Thrones meets the Grimm's fairy tales in this twisted, fast-paced romantic fantasy-adventure about Sleeping Beauty's daughter, a warrior princess who must fight to reclaim her throne.

Though she looks like a mere mortal, Princess Aurora is a fairy blessed with enhanced strength, bravery, and mercy yet cursed to destroy the free will of any male who kisses her. Disguised as a boy, she enlists the help of the handsome but also cursed Prince Niklaas to fight legions of evil and free her brother from the ogre queen who stole Aurora's throne ten years ago.

Will Aurora triumph over evil and reach her brother before it's too late? Can Aurora and Niklaas break the curses that will otherwise forever keep them from finding their one true love?



This was such a fun book. If you want to read something fun and adventurous, where you feel like you're a part of the story, this is definitely a book I suggest you pick up. Sure, it had it's moments where your heart might've hurt or maybe you wanted to cry or possibly even throw the book (unless you're like me and reading it on your phone, that would be foolish). This story brought out a ton of different emotions from me but at the end of the story, I shut my app down and was just . . . happy. I'd love more from these characters and this world but I'm happy.
The one thing I loved most about this book was how you could feel so much for a character you didn't know a whole lot about. Because of connecting with Aurora, you become attached to her brother, Jor, who technically isn't in the book often at all. It's through her bond and her relationship with him and most importantly, her love for him that we start to worry along side her. We worry about his fate and we dread not knowing if he's still alive or if he's been murdered. The unknown has us in just about as much agony as Aurora and that's something special. Most times, I need to be introduce to a character to really feel a connection or even give a damn about them but not in this case.
Prince Niklass is on my list of book boyfriends. There's absolutely no doubt about this. He's charming, good looking, a kind soul, whose got one hell of a sense of humor, he's brave, he's loyal and when he loves, he loves with his whole existence. May be he's been warming too many different woman's beds in the past but really, can we judge him? Especially knowing how short of life he's been cursed with? If you would no longer exist at the age of 18, would you live life the way you do now? I doubt it and therefore, I will not judge. Like I said, he is loyal and he loves with all that he is so that may his past but it's not his future.
I know this is a standalone (or at least I'm 95% certain it is) but what I would love is a companion novel involving a certain character with appearances from other characters. I know, very vague but if I mention the character(s), it would be considered a spoiler but trust me, I would just love more from these characters and this world and I would take it what ever way I could.
Not that this is the best book, I've read, but it was one of the most fun adventures I've had the pleasure of taking lately. It's been a few weeks since I finished it and I still think about it. I still smile when I think about it and it's one that I'd love to go back to read again and again and again, just to have a good time. You need books like this, that make you enjoy reading more than you thought you did (especially when you're in a funk like myself).
Thank you so much to Random House for allowing me to read this book in exchange for an honest review.