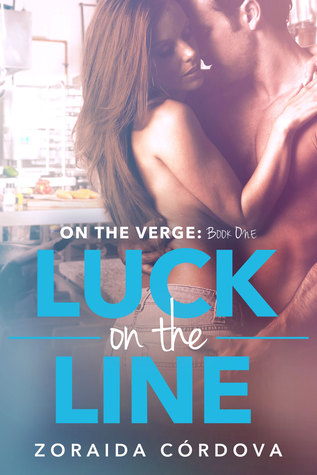 Luck on the Line by Zoraida Córdova
(On The Verge, #1)
Release Date: November 11, 2014
Publisher: Diversion Books; 248 pages
Rating:
To turn her life around, she'll have to stand the heat. To fulfill his dreams, he'll have to get Lucky.

Despite her name, Lucky Pierce has always felt a little cursed. Refusing to settle for less or settle down, she changes jobs as often as she changes boyfriends. When her celebrity chef mother challenges her to finish something, Lucky agrees to help her launch Boston's next hot restaurant, The Star. Even if it means working with the infuriating, egotistical, and undeniably sexy head chef.

James loves being known as Boston's hottest bad boy in the kitchen, but if he wants to build a reputation as a serious chef, he has to make this restaurant work and keep his scandalous past out of the headlines. Getting involved with his boss's spoiled, sharp-tongued daughter is definitely not on the menu.

As the launch of The Star looms and the tension and chemistry heat up in the kitchen, they're going to need more than a little luck to keep everything from boiling over.

Goodreads: https://www.goodreads.com/book/show/22560542-luck-on-the-line

$4.99 on Amazon: http://www.amazon.com/Luck-Line-Verge-Book-One-ebook/dp/B00NUHIYKS/ref=sr_1_1?ie=UTF8&qid=1414943159&sr=8-1&keywords=luck+on+the+line

and Kobo: http://store.kobobooks.com/en-US/ebook/luck-on-the-line
This may be a book where I actually like the main character more than the love interest. This is also a book where I like the best friend a lot more than the love interest. But that's nothing new. I always go for the guys who aren't gonna get lucky with our leading lady. I take it all back. See - this is why, friends, you should plan a little better and not have things come up when reading a blog tour obligated book so you can finish it and not look like an idiot. Things are deceiving, that they are. The love interest is definitely worthy. Absolutely and utterly worthy of being the love interest.
Lucky is hilarious and while I feel sorry for her name (and frankly, every time I see her name I just start hearing that Britney Spears song play in my head), it doesn't really bother her . . . unless you call her some stupid nickname like Lucky Charms or Licky. She's got some balls. She will dish it right back to you and she will dish it to you good. She's got a mouth on her and she's not afraid to use it.
James, the delicious chef we meet and most will probably drool over, is pretty likeable. His eyes are something that will make you swoon because who doesn't love stunning green eyes? I know I do so give it to me, baby. He's mysterious though because he has a past and he's keeping it hidden from Lucky and as curious as she is to find out what makes him him, we're just as curious, if not more. I don't know about you but I'm certainly thinking the worst.
I love the supporting characters in this story like Felicity, who Lucky's mother's assistant. She's sweet, charming and extremely dedicated to her work. I hope she gets a little bit of love in this series because she deserves it. Then there's the man whom I love, Bradley, who is Lucky's best friend. He seems like the type of guy you want to take home to the parents. Not just because he's rich, comes from a great family or studying to be a doctor but because his parents raised a good guy and those are hard to find. (I am heartbroken.) Then there's the sous-chef, Nunzio who is an absolute hoot. He's Italian and he's a character to be around. I hope to see a lot more of him.
Don't read this book while you're hungry because you'll find yourself craving all sorts of food. For instance, right now I am craving bacon like something fierce. Baaaaaaacon.
About The Author



Zoraida Córdova was born in Ecuador and raised in Queens, NY. She studied English Lit at Hunter College, and The University of Montana before finding a home for herself in the (kinda) glittering world of New York City's nightlife. She prefers her whiskey neat, her bacon crispy, and her men with a side of chivalry. She is the author of The Vicious Deep Trilogy.



Blog | Twitter
Must be 13+ To Enter | Ships in US and Canada Only
1 "Kiss the Bartender" mug
1 "Lick the Cook" mug
1 #GetLucky cocktail shaker
3 swag packs that include: bookmarks and postcards with cocktail recipes from Luck on the Line!
U.S. & Canada only
a Rafflecopter giveaway