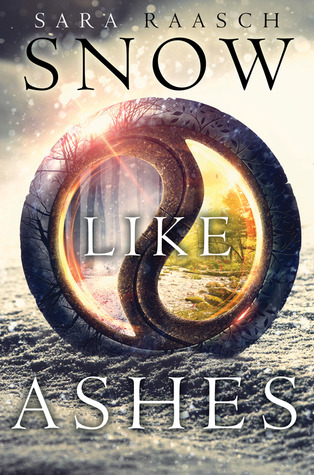 Snow Like Ashes
by
Sara Raasch
(
Snow Like Ashes, #1
)
Release Date: October 14, 2014
Publisher: Balzer + Bray; 432 pages
Rating:
A heartbroken girl. A fierce warrior. A hero in the making.

Sixteen years ago the Kingdom of Winter was conquered and its citizens enslaved, leaving them without magic or a monarch. Now, the Winterians' only hope for freedom is the eight survivors who managed to escape, and who have been waiting for the opportunity to steal back Winter's magic and rebuild the kingdom ever since.

Orphaned as an infant during Winter's defeat, Meira has lived her whole life as a refugee, raised by the Winterians' general, Sir. Training to be a warrior—and desperately in love with her best friend, and future king, Mather — she would do anything to help her kingdom rise to power again.

So when scouts discover the location of the ancient locket that can restore Winter's magic, Meira decides to go after it herself. Finally, she's scaling towers, fighting enemy soldiers, and serving her kingdom just as she's always dreamed she would. But the mission doesn't go as planned, and Meira soon finds herself thrust into a world of evil magic and dangerous politics – and ultimately comes to realize that her destiny is not, never has been, her own.


Let's be honest here, this cover grabbed your attention before even reading what this was about, right? Who knows, maybe this cover sold you to read it without even reading the description - regardless, this book lives up to the awesomeness that is the cover. This cover is probably one of my favorites, especially from 2014.
If you've been reading my reviews from time to time, you'll know I'm a big fan of romance in any novel, right? However, if the story is great enough that it gets me forgetting about the romance (most of the time) then you know it's going to be one hell of a book. So, if you couldn't guess, Snow Like Ashes doesn't have a whole lot of romance but what it does have are subtle things. Maybe like a kiss on the cheek, a hug that lasts just a moment too long to considered a friendly hug, a look of longing, a moment of hand holding that just makes me weak in the knees. I was actually more giddy over the small things that I could've been with anything else.
The main focus is and should be on the story and the world that Sara Raasch has created. It's a beautiful world with amazing characters and historically huge problems. Who would've ever thought to create a book with seasons but having people representing those seasons? The Winter Kingdom, which was destroyed, all their people are pale, white hair, light blue eyes and cannot stand the heat. Whereas, say, people from Spring a more tan, darker hair with darker eyes. I don't recall meeting anyone from Summer in this book but we did meet some from Autumn.
There's a huge twist in this book and I saw it coming. I know people who read it and didn't and I can't even imagine what was going through their minds when they got to this point. I was squealing like fangirl when I got there because even though I thought it early on, didn't mean I was actually going to be right (it happens a lot where I'm not). Obviously, I can't talk about this because you have to find out about it first hand, but it's a fantastic plot twist that will hopefully make you giddy, as well.
Meira is amazing. I may, in fact, have a slight girl crush on her for how awesome she is. All she wants to be is a soldier for her future King, who also happens to be the person she's in love with and her best friend, and to be someone that is of use to surviving eight refugees of Winter. She is fierce, she is loyal, she is kickass, she is extremely intelligent and she does not like being told what to do when it's to 'keep her safe'.
Mather is my man. I am just throwing that out there. I want him in my corner every day and every night. This guy needs to be real because I will hunt him down and I will find him. Read the book and you will understand what I'm talking about. There are not enough words to describe him so I will opt not to bore you. Just take my advice and read. However, Theron, I thought I might hate you but you are fighting for my heart, as well. You've put up a good fight, my dear, and I can't wait for you to keep fighting in the next book but you're still not there yet.
A big huge thank you to Harper Collins for allowing me the opportunity to read this book in exchange for an honest review.