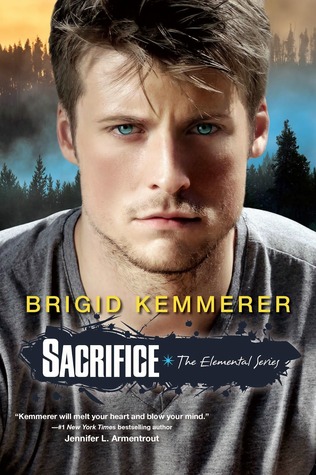 Sacrifice
by
Brigid Kemmerer
(
Elemental, #5
)
Release Date: September 30, 2014
Publisher: Kensington Teen; 324 pages
Rating:
Earth. Fire. Air. Water.

One misstep and they lose it all. For the last time.

Michael Merrick understands pressure. He's the only parent his three brothers have had for years. His power to control Earth could kill someone if he miscalculates. Now an Elemental Guide has it in for his family, and he's all that stands in the way.

His girlfriend, Hannah, understands pressure too. She's got a child of her own, and a job as a firefighter that could put her life in danger at any moment.

But there are people who have had enough of Michael's defiance, his family's 'bad luck'. Before he knows it, Michael's enemies have turned into the Merricks' enemies, and they're armed for war.

They're not interested in surrender. But Michael isn't the white flag type anyway. Everything is set for the final showdown.

Four elements, one family. Will they hold together, or be torn apart?


If you have NOT read Storm, Spark, Spirit, & Secret please read with caution. There are some spoilers that were unavoidable. Proceed with caution . . .
I wanted to love this the most but I just couldn't. I will say that this book brought out the most emotions. I nearly cried like a little baby in two different chapters. When a character lost it, I almost was needing comforting, too because the water works were about to break free.
Poor Michael. Each of these brothers have gotten injured and beaten up but I'm sorry, big brother Mike takes the cake for everything he went through in this book. The title is not misleading when he sacrifices so much in this book. So. Much. But is it only his sacrifice? That is a question you should be asking yourself. This is his story but just like every other book before, it's his whole families story. And this is a family I could read about over and over and over again.
The best thing about this book is that it's not final. Yes, right now, it's the final book in the series but it's open ended (not cliffhanger) that if she decides to continue the series down the line, she has somewhere to go. I'm hoping for it to continue but I also understand her wanting to do something else (and then maybe come back to it ;) right?).
Michael seems a lot older than he really is. That's because he's basically been like a parent since he was 18 years old and his parents died. He was forced to grow up fast or lose his brothers to the system. No family wants to be split up but especially not a family that is put in as much danger as the Merricks because of who they are. The choice is pretty easy and that right there, is probably one of the biggest sacrifices Mike's ever made.
I found this book to be quite predictable. I can't really talk about in what sense because it's a
huge
spoiler but let's just say when it happens, I wasn't surprised. I am surprised about other things, of which I can't talk about either but if you've read this series and want to know what I'm talking about, feel free to send me an email. I'd love to know if you feel the same way or how you view everything.
Overall, I enjoyed this book, a lot but it definitely isn't in the same category as Chris, Gabriel & Nick's books. It probably falls along the same ranking as Hunter's book. Speaking of these characters, can I say how bummed I am that there wasn't more of Mike's siblings in this book? It felt like it was missing that spark, if you know what I mean.
Read this series, you'll love this series. One of the coolest things about reading a fellow Marylanders book and having her place it in Maryland is being familiar with road names, landmarks and such; it makes it so much easier to visualize it when you can see the locations in your head perfectly.
Thank you so much to Kensington for allowing me the opportunity to read this book in exchange for an honest review. And thank you to Brigid Kemmerer for writing such an amazing series and having some of the best characters I've ever read. I'll never love another family the way I love the Merrick brothers.