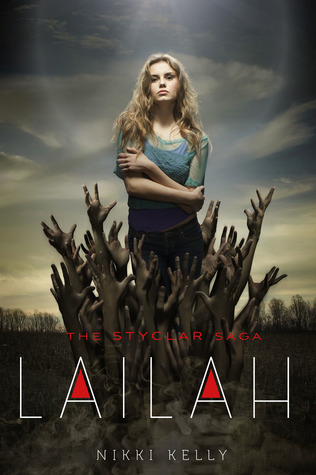 Lailah
by
Nikki Kelly
(
The Styclar Saga, #1
)
Release Date: October 7, 2014
Publisher: Feiwel & Friends; 416 pages
Rating:
The girl knows she's different. She doesn't age. She has no family. She has visions of a past life, but no clear clues as to what she is, or where she comes from. But there is a face in her dreams – a light that breaks through the darkness. She knows his name is Gabriel.

On her way home from work, the girl encounters an injured stranger whose name is Jonah. Soon, she will understand that Jonah belongs to a generation of Vampires that serve even darker forces. Jonah and the few like him, are fighting with help from an unlikely ally – a rogue Angel, named Gabriel.

In the crossfire between good and evil, love and hate, and life and death, the girl learns her name: Lailah. But when the lines between black and white begin to blur, where in the spectrum will she find her place? And with whom?

Gabriel and Jonah both want to protect her. But Lailah will have to fight her own battle to find out who she truly is.

This cover, y'all, this cover is awesome and creepy and man, it just made me wanna read it as soon as it came in. I have a bit of cover lust going on right now. Which is weird, because it's such a creepy cover but come on, tell me you don't want to read more about this book after seeing the cover. It makes me giddy to think what the next cover might look like!
I'm going out on a limb here and clearly stating that I am Team Gabriel. Yes, there is a love triangle and yes, you should've been able to figure it out from the books description. If this surprised you then maybe you should consider reading the description once more? However, maybe I'm not one that's a little more accepting to love triangles or maybe this is just one I don't really mind all that much. While I love both of the guys, it's Gabriel who really speaks to me. This shouldn't surprise most people as I normally go for the 'good guy' in books which is also why I normally never end up liking the guy the main girl gets with. Will I be surprised if this is the case? No because I've learned to accept this and really, in this case, I'd be happy either way. BUT I'M HOLDING OUT HOPE! Not that it gives anything away to what happens in the book because, it's really not even close I'm just sitting here, comparing this to most YA love triangles which, probably isn't fair of me and I hope I eat my words later. I'm rambling so I'm moving on . . .
We've all read our fair share of vampire books and I'm sure we've all read our fair share of angels books, am I right? At least I have because, even though I am not religious, I love reading angels books (as long as the religion aspect of it isn't shoved down my throat) a lot more than vampire books but I have never read a book that has them both, so consider me on board from the get-go. This book is as unique as the idea of vampires and angels together, in a book. While, I thought I figured something out very early on, I was on the right track but I definitely didn't have it figured out and that really made me appreciate the book that much more because
really
, who likes reading a book that they guessed by the first quarter of the book? Not me and I'm guessing, not many of you?
I love the fact that when we meet Lailah, we see right off the bat how independent she is and how she's been surviving on her own for far longer than any of us have been alive. She's got spunk, which is a total bonus because it's a quality that I really love to see (and I feel is more relateable). She's got a dark side but really, how many of us don't? She's a rough life, at times, and she has the scars to prove it.
Jonah is the first guy we meet and we meet him in a rare state. That is, a weakened state. Like, probably close to the brink of death . . . or, since he's a vampire and technically already dead, he's on the brink of extinction. I liked him the most in the opening scene because, to me now that I've finished the book, he's more subdue and more . . . charming. He's a good guy, especially for a vampire but there's just something about him that makes me want to go the other way.
Where as Gabriel, I will run to with open arms. He is everything Jonah isn't and it should be that way. Really, these two guys represent light and darkness and their personalities match them both. One thing I loved most with Gabriel was his telling of 'heaven' or what is really his home. It's beautiful and it's moving and it made me really, really wish I were an angel in disguise. Gabriel is a leader, he is strong, he is intelligent and he is full of love. The fact that he is a leader to a group of vampires just shows you, basically anything is possible.
While it may sound like the story is more about who she chooses, I assure you, there is so much more going on. Lailah doesn't know what she is but she knows she is being hunted. Could you imagine being hunted and not knowing why? There are beings on both side of the battle wanting to claim her. Some may want her dead while others may want to use her. Either outcome isn't something Lailah, Gabriel or Jonah are willing to see. The end battle is pretty epic and will leave you on the edge of your seat, bed or wherever you happen to be reading. My focus, and most of my review's focus is usually on the characters and the relationships because to me, is a big part of what I enjoy.
You guys, from the cover to the pages in between, I really enjoyed this story and I know, with how it ended, I desperately need more. I need more of Gabriel, Lailah and even Jonah, pronto. If you're in to paranormal books and want to look for something a tad different, I would suggest picking up this book and giving it a try. Especially if you like (or can tolerate) love triangles. This is a good one, I assure you.
Thank you so much to Macmillan for allowing me the opportunity to read this book in exchange for an honest review.