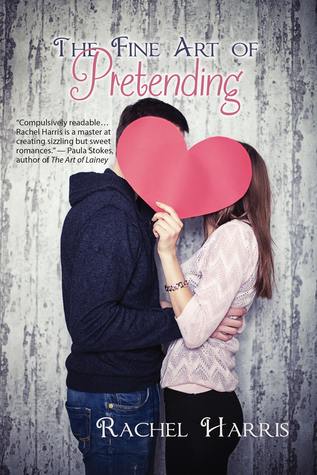 The Fine Art of Pretending
by
Rachel Harris
Release Date: September 30, 2014
Publisher: Spencer Hill Contemporary; 256 pages
According to the guys at Fairfield Academy, there are two types of girls: the kind you hook up with, and the kind you're friends with. Seventeen-year-old Alyssa Reed is the second type. And she hates it. With just one year left to change her rank, she devises a plan to become the first type by homecoming, and she sets her sights on the perfect date—Justin Carter, Fairfield Academy's biggest hottie and most notorious player.

With 57 days until the dance, Aly launches Operation Sex Appeal and sheds her tomboy image. The only thing left is for Justin actually to notice her. Enter best friend Brandon Taylor, the school's second biggest hottie, and now Aly's pretend boyfriend. With his help, elevating from "funny friend" to "tempting vixen" is only a matter of time.

But when everything goes according to plan, the inevitable "break up" leaves their friendship in shambles, and Aly and Brandon with feelings they can't explain. And the fake couple discovers pretending can sometimes cost you the one thing you never expected to want.
The Fine Art of Pretending
marks my seventh published book. Four young adult, three adult romance, but a theme that weaves itself throughout them all, sometimes in the background, sometimes very much prevalent, is the concept of loving the skin you are in. Embracing your own unique brand of crazy. The journey from hiding parts of ourselves, thinking we aren't enough, to discovering how awesome we truly are is a story I love to tell.
This theme is perhaps explored more in The Fine Art of Pretending than in any of my others.
Why is this idea so important to me, you may ask. Well, I like to think I'm an intelligent woman. I pick things up rather quickly, I enjoy homeschooling my daughters and instilling in them a love of lifetime learning. But loving who I am, being okay with me, flaws and all, is not a concept that I grasped early on. It was a huge struggle for me in high school, and though it took a different form in college, it never really sank in.
I'm ashamed to admit that it took almost thirty years for me to really begin owning my silliness. To admit that I have strengths…and understanding that admitting that doesn't make me vain. Thinking I'm better than someone else is conceit, but acknowledging my inherent value and God-given self-worth, taking pride in my accomplishments, is actually healthy.
The older I get, the more open I've become about my struggles, and I've discovered a sad truth—I'm not alone. Lack of confidence is common; in fact, it's often heralded by people who confuse it with humility. When I sat down to write my very first book (yup, though this is the seventh book I've published, it is actually the first one I wrote back in 2010), I knew this was a theme I wanted to explore, as it was such a sticking point for me in my own young adult years.
Pouring over my high school memories, I grabbed onto a conversation I had with a group of my guy friends out on my driveway one late night after a party. They told me about a "game" they had done one night, where they grouped girls into two groups: basically the kind you hook up with, and the kind you're friends with—the kind that deserve a relationship. When I was informed that I belonged in this second group, I didn't respond in the way that a strong, confident woman would. I responded in the way a confused, struggling to love herself teen would respond. A way similar to the way Aly Reed, the heroine in The Fine Art of Pretending does.
Now, in my own life, I didn't insist on a makeover or begin an Operation Sex Appeal. Really, I didn't go beyond a sigh of disappointment. But, Aly does do those things, and honestly, I'm glad she does. Not only because I think it is a legitimate reaction, an honest one, but by going to such drastic lengths, Aly learns a truth that it took me another fifteen plus years to comprehend.
We're all awesome, just the way we are.
About Rachel Harris:
Award-winning and Bestselling author Rachel Harris writes humorous love stories about sassy girls next door and the hot guys that make them swoon. Emotion, vibrant settings, and strong relationships are a staple in each of her books...and kissing. Lots of kissing.

An admitted Diet Mountain Dew addict and homeschool mom, she gets through each day by laughing at herself, hugging her kids, and watching way too much Food Network with her husband. She writes young adult, new adult, and adult romance, and LOVES talking with readers.
Links:
a Rafflecopter giveaway