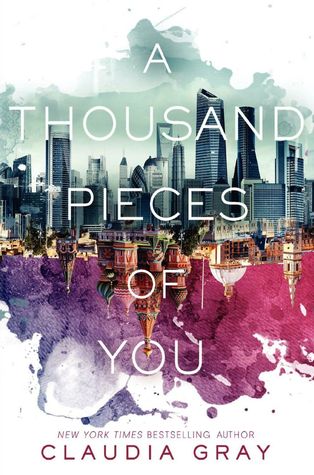 A Thousand Pieces of You
by
Claudia Gray
(
Firebird, #1
)
Release Date: November 4, 2014
Publisher: Harper Teen; 368 pages
Rating:
Marguerite Caine's physicist parents are known for their radical scientific achievements. Their most astonishing invention: the Firebird, which allows users to jump into parallel universes, some vastly altered from our own. But when Marguerite's father is murdered, the killer—her parent's handsome and enigmatic assistant Paul—escapes into another dimension before the law can touch him.

Marguerite can't let the man who destroyed her family go free, and she races after Paul through different universes, where their lives entangle in increasingly familiar ways. With each encounter she begins to question Paul's guilt—and her own heart. Soon she discovers the truth behind her father's death is more sinister than she ever could have imagined.

A Thousand Pieces of You explores a reality where we witness the countless other lives we might lead in an amazingly intricate multiverse, and ask whether, amid infinite possibilities, one love can endure.


I wish I could've loved this more, I really, really wanted to. I truly did but alas, I can't let myself rate it more than three stars. I should also say, I almost DNFed this book around 35% but I stuck with it. I try to give books the benefit of the doubt to at least the midway point and I'm glad I did. This book got better the longer it went on but it wasn't until the midway point when I started to really feel it.
I will also say this is one book where I did not like the hint of a love triangle. Though, I guess you can't really call it a love triangle when the feelings aren't returned to both boys but I just didn't like the feel of it. Hell, I didn't even realize where her feelings truly lied until it got further in the book. I'm not sure if I was just oblivious to it or it was meant to be portrayed that way. I don't know - it was weird. And it's nothing against either guy because I liked them both, as individuals but clearly, you seem to gravitate to one over another and this is definitely true in this case.
The idea of this story is amazing and it's not that it didn't deliver, it's just I felt no connection to the story. I felt like I was an outsider looking in. I didn't feel like I was sucked in to the story until I arrived in Russia. Oh my gosh, this was definitely the best part of the story. Everything about this part of the story was perfection. It was magical and it was heartbreaking. I actually want to go back and just read this part because it made the book for me. I'm so glad I didn't stop reading or I would've missed out on something so amazing.
With the fact that the book improved as it went on, I'm definitely interested in reading where this series may go and how much more danger awaits for these characters. Plus, I'm really curious to see about her relationship with Paul, because, he's totally swoon-worthy in every aspect. He's got brains, he's got looks and he's all sorts of awkward which is such a great characteristic to have, in my opinion.
If you love sci-fi, I definitely think this book is worth a shot. I'm torn on sci-fi, some works for me where some does not but I'm a big fan of Claudia's so I wanted to give it a shot (plus, look at that beautiful cover). I think my distance from the story in the beginning because there's a lot of science mixed in to that bunch, where they're introducing the world, her family and the logics behind everything.
One other thing I almost forgot to say; family is a huge part of this book and it really made me love the book so much more. Marguerite is really tight with her parents and sister - this story starts after a tragedy occurs and seeing or meeting her family members in other dimensions just shows you how family oriented she truly is. It makes you appreciate family and makes you grateful to be so close with your family.
Thank you so much to Harper Collins for allowing me the opportunity to read the book in exchange for an honest review.