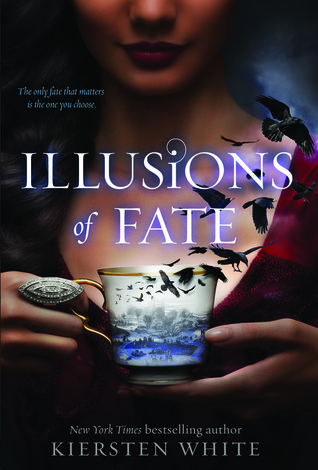 Illusions of Fate
by
Kiersten White
Release Date: September 9, 2014
Publisher: HarperTeen; 288 pages
Rating:
Downton Abbey meets Cassandra Clare in this lush, romantic fantasy from New York Times bestselling author Kiersten White.

"I did my best to keep you from crossing paths with this world. And I shall do my best to protect you now that you have."

Jessamin has been an outcast since she moved from her island home of Melei to the dreary country of Albion. Everything changes when she meets Finn, a gorgeous, enigmatic young lord who introduces her to the secret world of Albion's nobility, a world that has everything Jessamin doesn't—power, money, status…and magic. But Finn has secrets of his own, dangerous secrets that the vicious Lord Downpike will do anything to possess. Unless Jessamin, armed only with her wits and her determination, can stop him.

Kiersten White captured readers' hearts with her New York Times bestselling Paranormalcy trilogy and its effortless mix of magic and real-world teenage humor. She returns to that winning combination of wit, charm, and enchantment in Illusions of Fate, a sparkling and romantic new novel perfect for fans of Cassandra Clare, The Madman's Daughter, and Libba Bray.
Fie! A word that I have never before used has now become a new favorite. It's an expression that one would shout when they are outraged or disgusted. It's also a word that the main character in Illusions of Fate says quite a few times. Jessamin I must say is quite a firecracker. It's always a joy to read about a young woman who is not afraid to speak her mind. Jessamin is also a minority of mixed race. As a minority myself, I can't tell you how much it excites me to read about a main character in a young adult book that is of color.
Jessamin is just so strong. She really is the bread and butter of this book. Kiersten White writes such strong characters. I remember absolutely devouring the Mind Games duology, and that was definitely because of the characters. Her characters are so memorable and they leaving a lasting impression on the reader.
Storytelling on the other hand is where things are a little shaky. And at under 300 pages, I find it difficult to tell a full fantasy story. Especially since this is a standalone novel, so there will not be a sequel. Majority of the novel builds incredible character development, but not so much of world building. It's a world with secret magic abilities that people of noble background possess that doesn't go into much detail. There are brief descriptions, and magic is such an enchanting story in any fantasy book, that it's a shame that it's not explored much.
Dialogue was a major strong point in this book. My gosh the bickering between Jessamin and her love interest Finn was quality work. I found myself re reading certain parts because I enjoyed them so much.
This last part is a bit hard for me to write, and I actually asked my blogmate Jessica if I should even put this in my review because it's not about the content of the book. First I want to say that this no way shapes my opinion of the book at all. It's just something that I noticed, and it nags me. I do not like the cover of this book. Jessamin is a woman of color. In the book she refers and describes herself as being brown. After doing research, I was relieved to find out that the cover model is of color (she's Polynesian). But parts of the cover are so brightened that if you quickly glance at the cover you probably wouldn't think a woman of color was the model. Her chest and hand are so lightened. This was probably done to showcase the teacup in the model's hands. But it is a bit disheartening for me.
We Need Diverse books was a trending topic on twitter a few months ago. I was able to personally relate to Jessamin. I've experienced racism and it sucks. It really does suck. Kiersten White didn't try to sugarcoat the topic, and it was told with sheer honesty.